If you are a chocolate lover like me then you might have experienced that sometimes it is very hard to find chocolates that you want to eat, to solve this problem Wengie is here. She has founded an innovative solution to satisfy all the chocolate desires so no one would be hungry. It is an out of the box do-it-yourself chocolate hack machine which you can easily make by using materials present at home. This hack will provide you chocolate anytime anywhere with just a simple click. This diy candy dispenser has got an outstanding response so if you are a chocolate lover then you should definitely see this.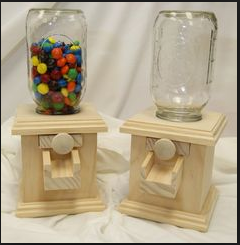 It is a simple chocolate dispenser. The main component of this dispenser is the jar in which the chocolates are stored. You can use a normal neutela jar or a strong tin container. Depending upon the radius of the lid of the jar you have to make the remaining stand. Mark the measurements on the cardboard in three sections and cut the whole piece. You can do any type of colour that you want on the cardboard to make it look beautiful. This DIY candy dispenser also requires a little pen spring for its opening mechanism.
If you want to know how to make this dispenser in detail then go to our YouTube site where detailed information about making this candy dispenser is given. It is very easy to make and can be made by using simple materials, so you don't have to go out and buy things for making this. The unique feature of this gumball machine is it is automatic. If you press once, only one Candy will come out where as if you kept the button pressed candy's will keep coming out. Wengie channel also provides some awesome life hacks that you can use in your daily life to make your living easier.
Categories: Service
Tags: wengie